My Residency: A Case for Chasing Sandpipers
So it's not happening the way I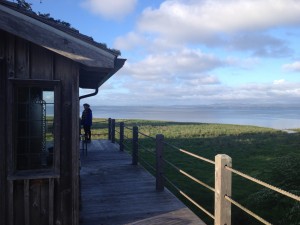 expected.  I did have a nagging suspicion I'd run into some tricky old business out here.  It's Oysterville after all.  I mean, don't get me wrong, it's stunningly beautiful here.  But the town is eerily quaint.  As in, Stephen King quaint.  Where is everybody?  It's the kind of pristine, manicured history that makes a city person suspicious.  There must be as many dirty secrets as there are clams buried in these mud flats.  But for now, I'll just speak to my own ghosts.  Interesting noises are made when one is abruptly plucked from the daily grind and dropped into a cottage on the coast to do their work unfettered.
When I told my friends that I landed a no-cost, fully-catered, artist residency for a month, the overwhelming response was: "Of course you did.  You totally deserve it."
"Deserve": what a sneaky little word.
Being given an office in the lap of luxury brings up some stuff.  Everything about the 16-acre spread is cooing: "relax!", "be good to yourself", "you deserve this".  Meanwhile, your desk is rumbling: "You have a month. Don't blow it buddy.  Make good use of your time."  It all has me acutely feeling just how hard on myself I can often be.  I've always felt that when it comes to art, I ultimately only "deserve" to be with the work completely.  If I trust that, I can trust it will get me wherever I'm going.  Which is usually exactly where I am…until it isn't anymore.  I try not to flog myself or climb onto a cross and just keep returning to the process.  For most of us, the elation issued from accolades is fleeting at best anyway.  As a friend recently reminded me: "just keep making shit.  Even if it's shit."
But today, even that won't cut it.  
I've been working plenty hard, thanks.  In the first two weeks I've competed 3 solid new pieces, several song sketches and mapped out my first original Brazilian choro composition.  What I've sucked at is taking true down time.  After weeks of pissing down torrential rain, it's the first near-80 degree day of year.  I woke this morning to a text that my very oldest friend's mother passed away peacefully after a well-fought battle with cancer.  Our mothers had been close friends for over 40 years.  So I think I will promptly unravel this afternoon right out onto the peninsula.  I now consider it my sole purpose to chase Sandpipers down the beach.  The stretch from the lighthouse into town is littered with them.  As you run, you can kick them up by the thousands like dust and watch them turn in unison from brown to a flashing silver.  When I tire of that?  I'll get myself a half a dozen raw oysters, a cold beer and sit in the shade.  I'll grin my teeth from ear to ear thinking about exactly how Portland, Oregon behaves in the summer: the BBQs, dance parties and the most beautiful women on earth singing soul songs in sundresses and granny glasses.  Yes: on bikes.  With baskets.
When the sun sets, I'll be back at the desk and my work will thank me.