The Force of May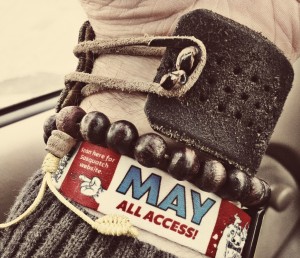 Finally back at my own desk in Portland, OR, I'm trying to get my head around my strange and beautiful month of May.  From a prolific, restless and cabin-bound time at my first artist residency, to playing main stage at the sold-out SASQUATCH! Festival, I'm still reeling.  I owe a huge debt of gratitude to the folks at Willapa Bay Air who went above and beyond to make us all feel so welcome.  I was blown away by the spaciousness and respect given to all the artists while allowing for plenty of sweet down time and lively conversation around the lodge and grounds.  Don't get me started about the food.  Oh, the food.  Gotta cook more better.  Can't go back to cold pizza now.  I'm also fired up to pursue further residency programs, fellowships and grants and perhaps even help fellow artists to procure the funding and support that is so crucial to doing our full-time creative work.
"I've learned that people will forget what you said, people will forget what you did, but people will never forget how you made them feel." -Maya Angelou
I realized the residency grounds had some real magic when, upon entering the cabin for the first time, a large doe greeted me a foot from the adjacent picture window.  I sat down that night and wrote most of my first song on the spot.  My plan was to rely heavily upon fantasy; to crank out a Shelter-From-The-Storm style piece with a particular woman in mind.  Half way through, I realized that the sentiment was fueled less by romantic love than the intense gratitude I was feeling about being provided with such a beautiful, quiet place to work.  Upon playing it for the founder, she teared up and gave me a massive hug.  She is an amazing spark of a human being.  It all reminded me that we were clearly in this for the right reasons. Some interesting challenges followed (see my previous entry).  But it was all a life changer to be sure.  Towards the end of the month, after a grueling 8-hour drive, when I finally arrived at Sasquatch Festival , the lads promptly nicknamed me "Thoreau" and we bullshitted and commenced with the whiskey and rabble rousing required when one has been cooped up like a monk in a cabin for a month.  I'll leave all that for another day.  But I will say the month of May confirmed a few things for me: heaven is having lots of time to write.  And to make music with family and friends.  That, and I'm so clearly still in love with Neko Case.